23 Freelance Writing Tips That Will Help Grow Your Career
23 Freelance Writing Tips That Will Help Grow Your Career
Develop a writing process to improve your odds of long-term writing success.
Freelance writers with an established writing routine tend to be more productive than those taking an 'I write whenever I feel like it' approach to content creation. Business owners don't just open their shop whenever they feel like. If you want to build a long list of happy writing clients, developing your writing process is essential.
You need to be specific about the time you will commit to writing. When are you most productive? After breakfast, or in the evening? Once you know this, you can plan your days more effectively, setting aside time for family, rest, and recreation.
You might want to work hard, but you shouldn't run yourself into the ground. Set aside time for small breaks and a more extended lunch break. If the weather's nice, go for a ten-minute walk. Finding time to relax is vital for keeping your mind fresh.
Develop a thick skin
If you're asked to rewrite an article or a piece gets rejected, don't get disheartened. Successful writers don't take it personally. Occasional criticism can improve your writing skills, so be resilient. The most successful people accept failures as a part of the journey to success.
You should also be assertive. If someone asks too much of you, you need to know how to say "no" politely. Maintaining good relationships is key to getting more work in the future. So if you know you can't meet a deadline, be upfront about it. The client will appreciate your honesty and professional attitude.
Reacting poorly to criticism or feedback not only impacts your relationship with that clients but also your reputation as a freelance writer. Instead, take a moment to digest the feedback you receive and then write an articulate and courteous response.
Start Contributing
I'm sorry, but sometimes you have to start from 0, and that means self-publishing on your lonesome on your little-known website, and then from there, find websites that allow you to contribute for little or no compensation. I've found some just from dumb luck, like Engaged Marriage and here on Lifehack, but I also found websites that need freelance writers by following where other writers publish their works.
And if you want to get paid, says Professor Rich Martin of Illinois University, a professor and freelance writer, you must remember everyone has opinions and opinions are free, so doing something more akin to reporting on a subject with market value is the way to go. Before you pitch a story, you must understand the value of the pitch to the outlet itself, adds Professor Mike Taylor of Henderson State University. So find some outlets that pay you to contribute, but don't underestimate. You are still applying for a job. Respect that. You have to be able to point to previously published work, or what can be called an online clip file or portfolio. The more outlets that have published you independently (even if they didn't pay you), the more help you'll get to land jobs that will pay.
Promote Thyself
So you have self-published and blogged, then found a few outlets that allowed you to contribute, but you still need help getting paid. What you need to do is demonstrate that the public likes you. By putting yourself out there on social media and by cultivating a fan base you are bringing your name market value. So, when people find you, can they follow you on Twitter? Can they like your page on Facebook? Are you G+ worthy? Can they Linkedin? Go forth and promote thy self! And ask family and friends to do so, too! Also, writers scratch other writers' backs! So follow back, share, and promote others.
You can be creative and quirky on social media and in your writing, but you want a completed professional profile on sites like LinkedIn with growing lists of your previously published works. All professional and creative writing experience is worth mentioning if it is complimentary to you career.
7 Tips for New Freelance Writers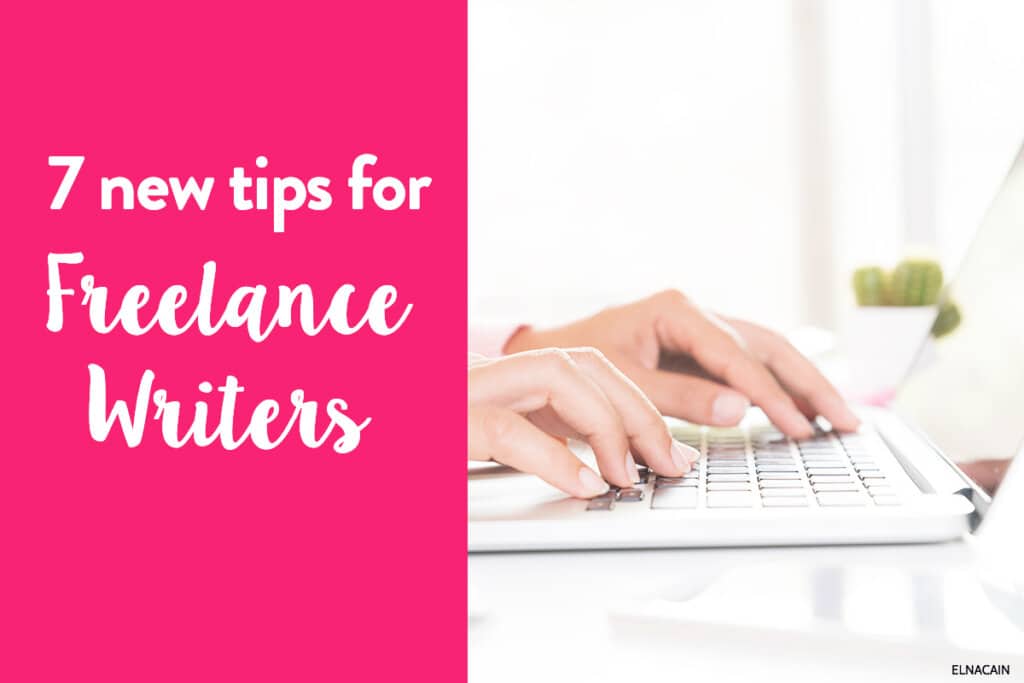 If this is you, then I want you to know that I was in your shoes once. Not too long ago – a little over a year ago – I was at a place where I was reading soo much about freelance writing, that I didn't know what to believe.
To get you started, I've come up with seven tips to help you out. This all requires taking action on your part, however. If you don't just do it and get out there, you'll never know how much you can potentially succeed as a pro writer.
Keep On Hustling
Share this post with your friends!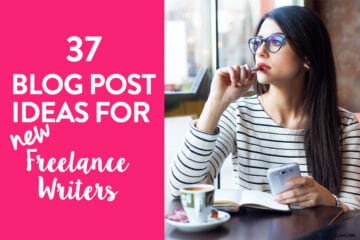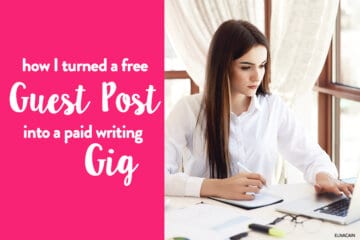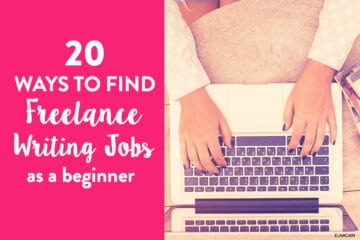 About The Author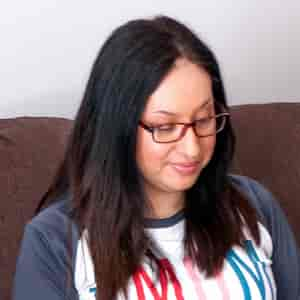 Hi I'm Elna and I'm a freelance writer and mom blogger. I help people just like you become a profitable freelance writer. Within 6 months of starting my freelance writing business from scratch I was able to earn a full-time living as a part-time freelance writer while taking care of my twin toddlers. Check out my free email course Get Paid to Write Online and learn the steps you need to take to be a freelance writer.
Leave a Reply Cancel reply
48 Comments
Thanks for sharing your experience and skills needed for growth and success in life. I love writing and editing but I finding it hard to start. I am highly motivated and inspired by your write-up. You're a plus to our generation.Reply to Edosa
I'm a teacher of English Language & Literature. I recently started blogging about education. It's so exciting and interesting. I'm good at it and I thought, "Why don't I become a freelance writer?" But I had a big fear, I didn't know how and where to start, and your article just helped me to cope with everything. Now I have found my clients and start writing for them. For the same beginners as me I want to advise not to be afraid to try yourself in this matter, if you try your best, you will succeed! I also would like to advise useful freelancer tools, such as https://www.hubspot.com/blog-topic-generator – which will help you when you are short on post ideas and Uncheck.com – great plagiarism checker helps to be sure of the originality of your content. All the best!Reply to Nancy
"Make A Pitch Everyday" ! If I could impart one piece of advice to freelance writers it would be this. To make it you need to market every single day. A freelance writer without clients is just a hobbyist. Marketing on social media, query letters, sample content, your website, networking — all of these methods are necessary. Jon PenningtonReply to Jon
Elna, I wish I had found your blog earlier…like almost a year earlier. I probably wouldn't have had to go back to my corporate job if I'd found you earlier. That's one of my mistakes and I hope others don't make the same one. Thank you for this post and your blog!Reply to Lisa
May be you forgot to included all freelnce writers must included guaranteed for reevision. I always did it so the client get what they want. if they are dislike with my job, there is always revision option.Reply to Shiq4
Great post as usual, Elna! The first tip is absolutely essential, and I'm glad you listed it at the top of the list! I've had a few different newer freelancers ask me why they aren't getting any responses, and what they are doing wrong with their pitches. They had a few issues with their approaches, but the main problem was how little they were pitching. Generally, they would send out 1 to 2 pitches a day, and then not do anymore marketing work. They sat there, waiting…and waiting…and waiting. Needless to say, they needed to pitch MORE! Again, great post!Reply to Alexia
Hi Elna, Thanks for these tips. I'm just starting out as a freelance writer and I have my own blog, but it's quite intimidating being out in the big wide world of the Internet. But with these tips I feel like I have more of a plan and will just keep pushing on and see what happens. Cheers, DianaReply to Diana
Thank you for the information. I'm a new author and still learning the ropes. Instead if working on my next novel I'm trying to keep my blog afloat by posting three times a week. the blog is new and just this last weekend I made the decision what I truly want to write about. I have a book signing event coming up and I've been reading and researching the proper way to wrote a press release. Day number two and I'm completely overwhelmed. Not only am I trying to promote my own boom but my husbands as well. Does it get any easier? Loom through your list there are several things I need to work on. Thank you again for posting this.Reply to Charity
Hi Charity! That's great you are on track. I'm not an author but I know a few freelance writers that are authors! It may seem overwhelming but just take it one step at a time! It does get easier once you understand the process and expectations! Good luck.Reply to Elna
Hi Elna! Great post. I'm struggling with a few of these actually. I definitely need to work on #1 and #5. I enjoy interacting with fellow freelance writers when I get the chance but don't always get the time to be an active part of the community. I'm always grateful for your shares and shoutouts on social! It's been inspiring to watch your journey over the last 6 months (when I first found your blog!). This has been queued up in my Buffer btw 🙂Reply to Jennee
Resources:
https://www.constant-content.com/content-writing-service/2018/11/successful-freelance-writer/
https://www.lifehack.org/articles/money/35-tips-for-freelance-writers-earn-lot.html
https://elnacain.com/blog/tips-for-new-freelance-writers/
https://blog.copify.com/post/6-simple-freelance-writing-tips-for-beginners