Email marketing strategy
Email marketing strategy
Imagine sending an email that looks so good. But the moment you open it on your phone the images don't show and the design looks bad. As a result, your subscribers aren't able to interact. This situation can seriously affect your campaign's success.

Get Personal – But Have Your Boundaries
There's no doubt that email personalization is a great tactic proven to have amazing benefits on your mail campaigns. According to Invesp, compared to non-personalized, personalized promotional mailings have 29% higher unique open rates and 41% higher unique click rates. The benefits even go further. An Epson research states that 80% of the customers are more likely to purchase from a brand that provides a personalized experience.
While it's great to familiarize the relationship you have with your customers, you have to be careful not to cross the line. Overusing names will just make you look weird in your customer's eyes and damage your reputation.
In a study conducted by YouGov, 32% of the participants stated that they don't like personalized messages because it felt like they're invading their privacy, while 29% stated irrelevance as their top reason for disliking marketers using their name in emails.
An Experian research found out that birthday emails generate 342% higher revenue per email, 179% higher unique click rates and 481% higher transaction rate than promotional emails. This looks like a pretty good reason to include personalization emails in your email marketing strategies, right?
But, don't forget that personalization is more than just mentioning each customer's name in the email. There are plenty of other ways to do it and it's up to you to test and see which option works best for your mail list.
Keep Your Subject Lines Short
47% of email recipients open the mail based on the subject line only, and those that are personalized are 22% more likely to be opened. This shows that subject lines are extremely important for your email marketing campaign's success. However, statistics show that it's not just the content you need to be careful about, but the number of the characters used as well. In fact, email subject lines with 6-10 words are those with the highest open rate. Another statistic that goes well in your advantage is that those subject lines with a sense of urgency or exclusivity give a 22% higher open rates.
What seems to be a simple one-liner, can, in fact, take a lot of time to create the right one. Subject lines can either make or break your campaign's success. So, the next time you'll find yourself crafting one, keep in mind that the more you tell with less, the better the chances of a successful campaign you have.
5 strategies for better email marketing campaigns
1. Personalize your messages
Personalization can generate $20 in ROI for every 800 invested.
The simplest form of personalization is to address the reader by name. Most email service providers (ESP) offer this within their functionality and this tactic alone will improve your campaign performance.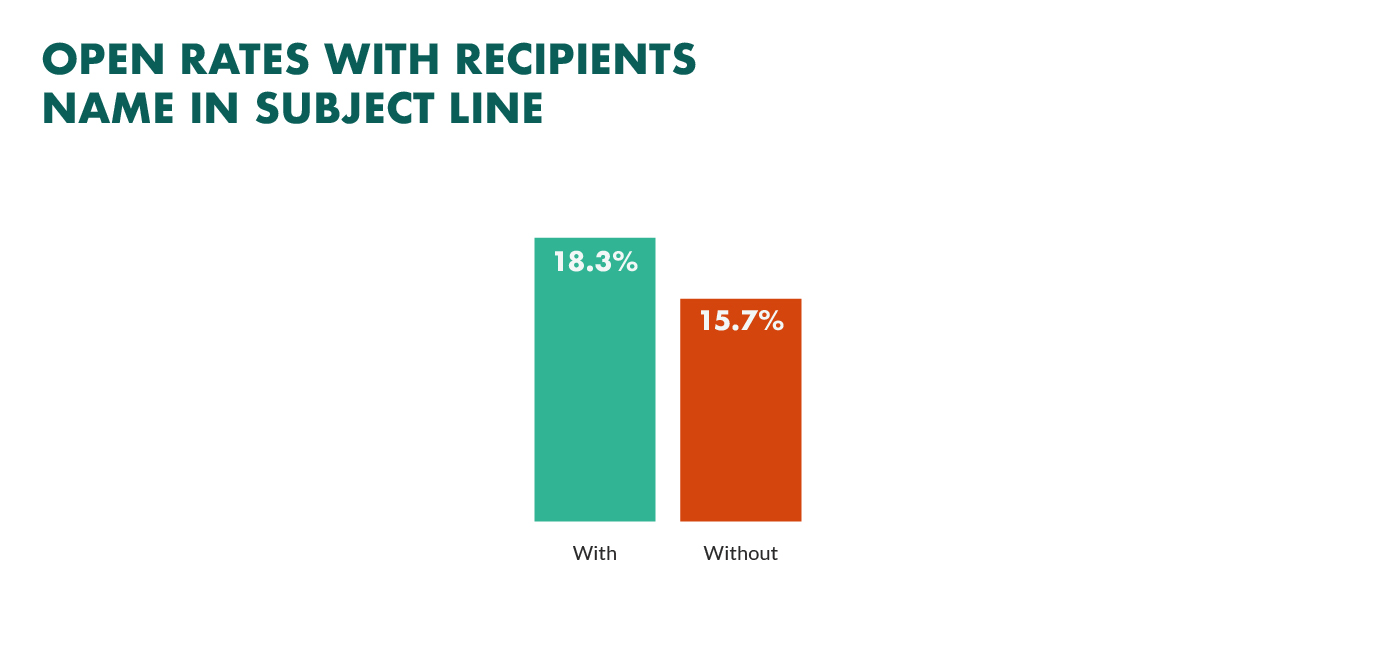 Considering that 47% of all emails are opened because of subject line alone, that's a sure fire way to get more eyeballs on your email.
Ask for the right information upfront: Great personalization starts way before you hit the 'send' button. It all starts with your sign up form. Without data such as name, company and location, you will be very limited with your personalized communication. Remember to only ask for the information you need, rather than the information you want. This is one of the ways that GDPR has impacted marketing teams.
Use a real reply-to email address: When you use [email protected], it takes away the authenticity from the messaging. You want your readers to engage and respond to your campaigns. Use a real reply address will improve credibility and appear more personal.
Use your real email signature: Just like using a real reply-to email address, you want to use real contact information within the email and the best way to do that is to include your contact details in the email signature. Giving your readers the opportunity to contact you or connect with you online is a great way to be personal and build a relationship with them.
2. Segment your subscribers
The best way to get small business owners to turn up to your event would be to create a segment of people who list themselves as a small business owner that lives within 20 miles of your event and then send them an invite by email.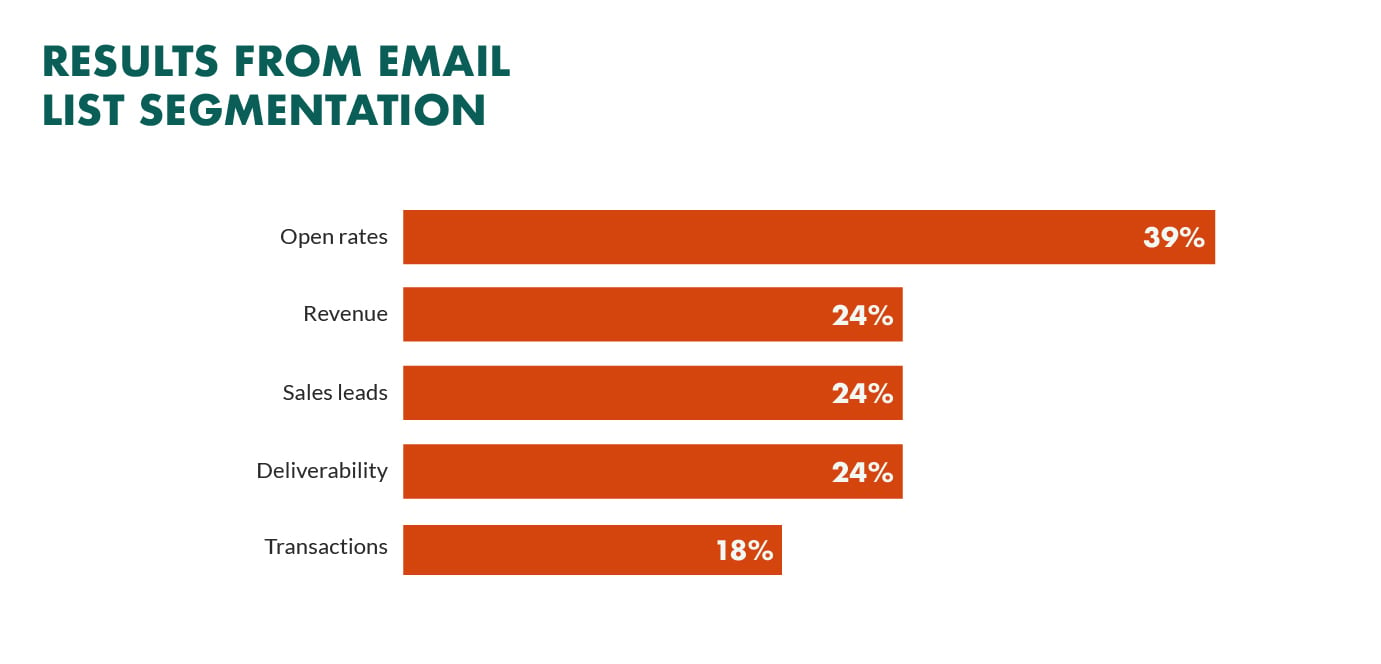 If you segment your lists, you get better open rates, revenue, leads, transactions and more customers.
Segment by industry: Do you offer services and products to businesses or consumers? Knowing the industry of your subscribers is a great way to segment your email campaigns. For example, a business that sells car parts would engage at a much higher rate if they receive email campaigns on car products, compared to a business that sells software.
Segment by company size: Also known as account-based marketing, segmenting email campaigns by company size or annual revenue is a great way to increase response rates. A small business that employs 5 people is not likely ready for the biggest industry conference of the year, whereas a business that employs 750 people might be a better fit.
Segment by sales cycle: Early stage buyers will not be ready for an aggressive sales pitch or one-to-one demo but, they will be more appreciative to receive an industry research white paper. On the other end of the cycle, buyers who are ready to buy will respond well to product webinars or free trial offers.
3. Send mobile friendly emails
Revenue per email on mobile devices is 4X higher than desktop
Implement responsive email design (RED): Creating a responsive email design means that the user experience is optimized regardless of the device or screen they use. Most email service providers (ESP) offer this solution within their email functionality.
Keep the subject line and pre-header short: The subject line is crucial. Keep it short so the reader knows exactly what the email topic is about. And the pre-header text (also known as snippet text), don't let it go to waste by using "To view this email in your browser…". Instead, summarize the email or include a call to action (i.e., Use "FREESHIP" to get free shipping).
Make the CTA big and obvious: Mobile device vary in size. While a text link may work on a tablet or larger screen, you might be alienating your readers who have a smaller screen (or bigger hands!) if your call to action is too small. Make the call to action, big, bold and simple to click.
4. Test copy, design and buttons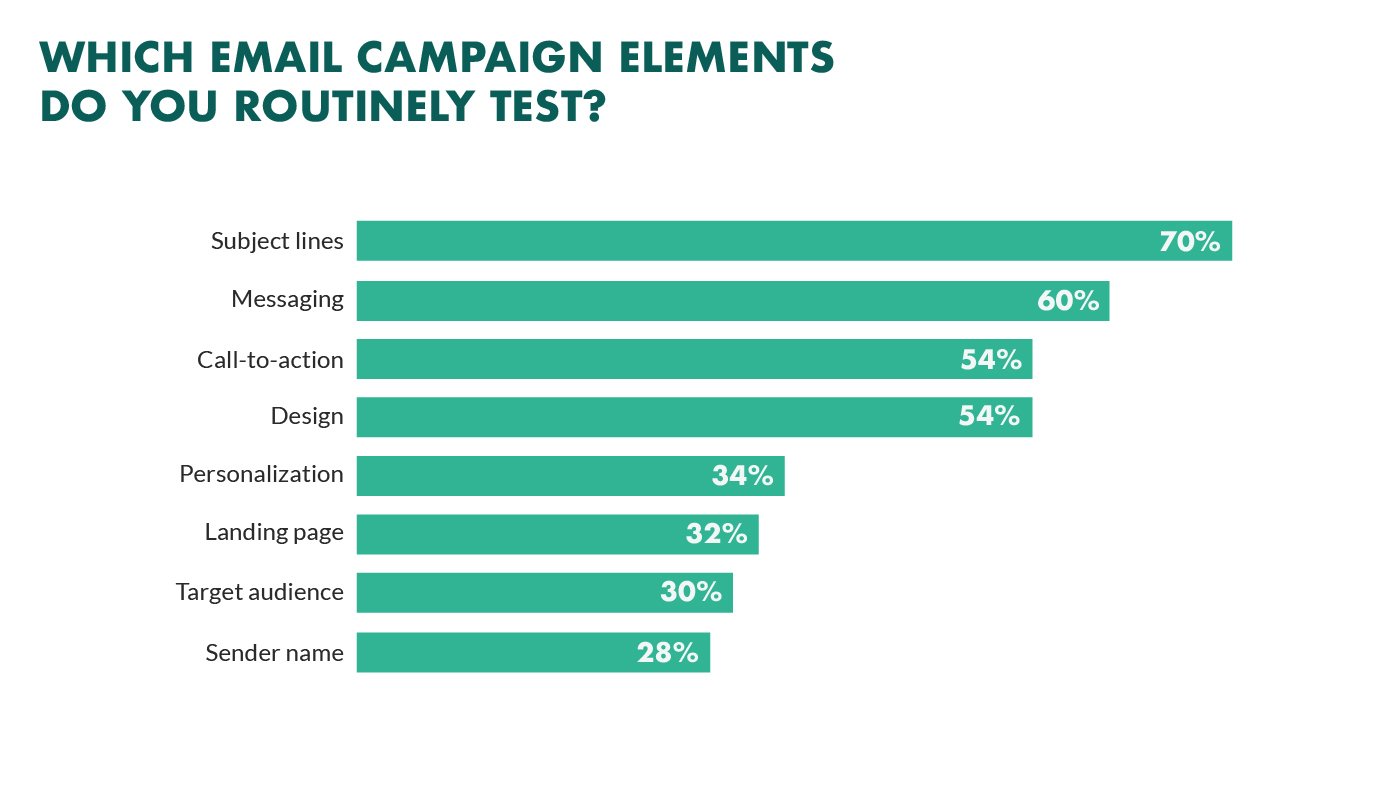 References
🔥 How can I fuel my inbound strategy with email marketing?
Email is a great medium for building long-lasting relationships with your audience. Create a consistent buyer journey using automated emails, and nurture leads with educational and entertaining content along their way to completing a purchase. You can personalize your emails by adding more value to being a member of your community. Register with SendPulse, and fuel your inbound marketing strategy with free email marketing.
💭 What does every email marketing strategy need?
It needs data about your audience's behavior, habits, and needs. Based on that data, you'll list communication touchpoints that email marketing can cover. For instance, you may need automated welcome emails to improve onboarding or abandoned cart emails to coax users to return and complete their purchase. At last, your strategy needs a reliable bulk email service, like SendPulse. Using SendPulse, you will have all the necessary email marketing tools at hand, including email automation, email list management, segmentation, and personalization for free.
✅ What does a good email marketing strategy look like?
It should be well-structured and detailed. Create it on paper, in Google Docs, or use specialized mind-mapping tools. Note that the size of your strategy depends on your business, meaning that a small business may only need to automate one or two communication touchpoints using emails to really see the difference.
🎬 How to start an email marketing strategy for an e-commerce brand?
Develop your buyer personas, and try to understand how your business can solve people's problems. The rest doesn't matter if you fail to deliver your message to the right people at the right time. From the very beginning of your e-commerce career, focus on understanding the people who make up your audience. With that approach, promote your products in a non-pushy, but rather entertaining way, and build a smooth purchasing experience for your subscribers.
Sources:
https://alite-international.com/7-effective-email-marketing-strategies-generat-sales/
https://www.superoffice.com/blog/email-marketing-strategy/
https://sendpulse.com/support/glossary/email-marketing-strategy
Email marketing strategy
These are the most obvious statistics for measuring campaign engagement, as they indicate how well your subject lines and campaign content resonates with a particular list. But it's important to consider how your open and click through rates compare to other companies in your industry—otherwise you're looking at your statistics in a vacuum.
Email marketing strategy and tips for successful campaigns
The first email, sent by Ray Tomlinson in 1971 or 1978 depending on your source, marked the beginning of the modern communication era. The message was nothing special, a series of numbers and letters that looked more like a password than a message, but its significance was profound.
Gary Thuerk, a Marketing Manager at Digital Equipment Corp, sent the first commercial email years later, where the message reached a list of email addresses. And voila, email marketing was born. There were only a few hundred people on the list, but that was enough for Thuerk to claim the mantle, "Father of Spam."
"The biggest benefit of Mailchimp's email builder is that it's easy to use. From quickly loading in our color palette and our brand font, we can make emails look and feel like an extension of our website very easily."
13 Effective Email Marketing Strategies to Take Your Campaigns to the Next Level
1. Clean your email list
What do we mean by list cleaning? List cleaning is the process of removing email addresses from your contact list that have been unengaged for a long time as well as removing contacts who unsubscribe.
Yes, exactly! To make the most of the marketing efforts you put into growing your list, you have to prune it sometimes too. By removing un-engaged contacts, unsubscribed contacts, contacts who mark your content as spam, and email addresses that bounce, you're left with a higher quality list. ✨
Jumpstart your email marketing strategy with Sendinblue
2. Provide value every time
Next up, providing value to subscribers is equally essential to an effective email marketing strategy. If you consistently provide value, your subscribers are more likely to consistently open and read your emails. In fact, they might even start anticipating your messages landing in their inbox. 📥
Think about what your customers want and need from you and build your email strategy around that. Maybe you're an ecommerce clothing retailer, and a major pain point for your customers is not being able to try on your items before purchase. Your email marketing strategy can and should address this issue! 🚀
In your email newsletters or marketing campaigns, you could feature content with advice on online clothes shopping. Similarly, you could transform your generic size guide into a custom size finder and link to it in your emails.
This kind of email content is what we mean by providing value to your subscribers. Of course, promotions and new product features provide value too, but consumers have come to expect this type of content, so it doesn't come across as exceptionally helpful.

While we're on the point of providing value to subscribers, accessibility is an important consideration to make. Your audience won't be able to see the value in your emails if they can't properly view the email itself! Specifically, there are two points to consider:
3. Optimize your calls-to-action
Your calls-to-action (CTAs) can dramatically affect the click through rates of your emails. (And, therefore, your conversion rates too). A weak CTA means less visitors and, ultimately, less sales so it's worth spending time on your CTAs to make sure they pack a punch. 💥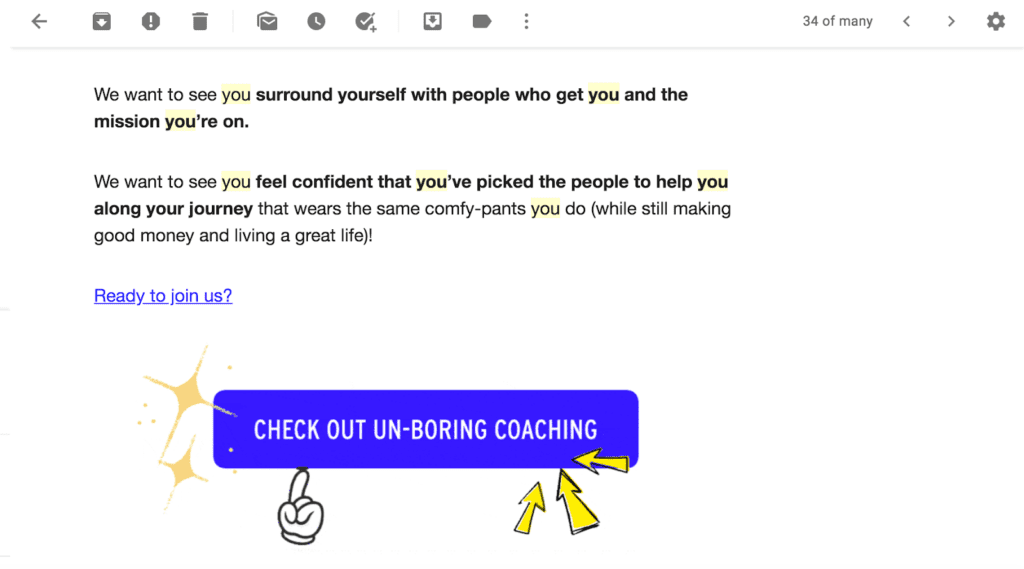 4. Share user-generated content
Word-of-mouth marketing is an incredibly powerful tactic, and user-generated content (UGC) is basically the digital version of it. 🗣️ When subscribers see that other customers are enjoying your brand and products, they're more likely to want to find out more.
Integrating things like customer photos, videos, reviews, and stories in your emails creates a sense of community and encourages more click throughs. According to research, UGC drives a 73% increase in email click through rates.
If you're struggling to find user-generated content, consider starting a hashtag campaign. #️⃣ By encouraging customers to tag you on social media and feature your products is a great way to spread the word as well as compile UGC in one place!
Apart from helping boost click-through and conversion rates, featuring user-generated content plays an important role in building a community around your brand. It creates a two-way street between you and your customers.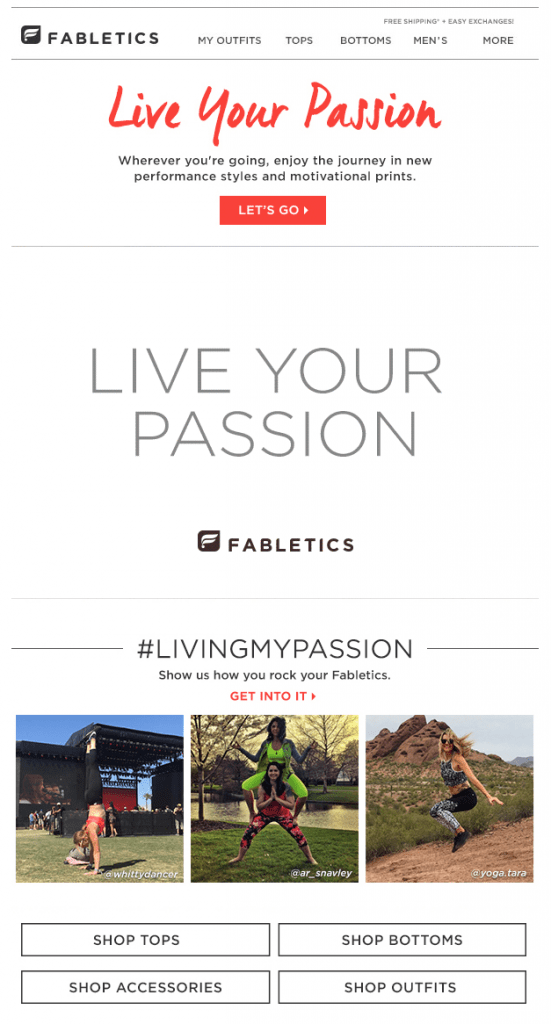 5. Connect with social media
Depending on the campaign, you may want to share the email content itself on social media. With Sendinblue, you can do so easily! All you have to do is click "share on social media" to get a shareable link. For more details, check out this Help Center article.
Conversely, including links to your social media in a welcome email to new subscribers is a great way to introduce your audience to your various channels. Take a look at this welcome email from Permission, another Sendinblue customer:
Email marketing Q&A
How long should an email be?
As short as possible while still being useful. Some businesses send very long and complex material in email form, but that's rare. The typical inbox is exceedingly full already, so you don't want to contribute to the problem. Get in, get your message across, and get out.
From reviewing many thousands of newsletters for Campaign Monitor, the typical length for a content-heavy newsletter (as opposed to an invitation or simple notice) is two or three screens' worth. This means you should toy with the size of your font in relation to the amount of copy. See what works—there's no "one size fits all" here.
Should I put the full articles in the email, or just teasers and links to the site?
Again, consider your goals for each email. Which action do you want the readers to take? If the goal is to get them onto your website, it might be wise to write a short (2-3 sentence) teaser and encourage readers to click the link. A summary (without spoilers) will help convince them that the link is worth clicking.
If your goal is to get readers to register for an event, for example, you could just use the links along with their images and titles. In this case, you're using the links to provide credibility for the ultimate action you want readers to take rather than using the articles themselves as the CTA.
This event email contains one main call to action (the RSVP button) along with supporting links to learn more about the speakers. You could follow this strategy when creating an email campaign strategy for health foods, parenting products, electronics, and much more.
How often should I send emails?
According to 2019 data, about half of your subscribers probably think you're sending emails too often. 45.8% of people mark emails as spam when brands send out campaigns too often. Moreover, when asked how brands could improve their email efforts, 43.9% suggested sending less frequent emails.
However, if you send infrequently, your subscribers may forget that they've signed up for your list. 36% of people say they mark emails as spam because they never purposefully subscribed to the email list. It's interesting to wonder how many of these people genuinely did sign up but the brand hadn't contacted them in so long that they forgot.
You can also just ask your subscribers—as well as people who've just unsubscribed—how often they'd prefer to receive your content. Ask your new subscribers to fill out their preferences upon signup or send out a form to current subscribers.
You should also know some basic benchmarks, against which you can measure each campaign. More recently, 2021 email marketing benchmarks show click-through rates of 2.6%, click-to-open rates of 14.1%, and unsubscribe rates of 0.10%. If you're seeing anything abnormal against these benchmarks, it's a sign you may need to re-adjust your strategy.
What is the best time to send an email?
You want to send the emails out when you can safely assume your subscribers are already on their phone or device. If you send an email in the middle of the night, for example, it will likely be buried under ten other emails by the time a subscriber checks their phone in the morning.
According to our research at Campaign Monitor, email opens begin as people start their workday and continue throughout the day before tapering off into the evening. 53% of email opens occur between 9 a.m. and 5 p.m., while 24% occur between 6 p.m. and 11 p.m. as folks wind down for the night.
You also need to consider the content and the audience. Some types of content will lend themselves to a Monday morning arrival: a set of henchperson "weekly tips," for example. Others are more appropriate for after-hours campaigns, like happy-hour specials.
Is it okay to buy an email list?
Although there are services and products that claim to have fully opt-in, up-to-date databases, you have no real way of confirming that. Most email service providers and anti-spam systems take a very dim view of purchased email lists. You could wind up getting your sending IP address flagged as spam and irreparably damage your sending reputation.
World governments are also taking data security much more seriously. In a post-GDPR world, you could find yourself facing costly fines and damaging lawsuits by sending emails to people who did not actively give you permission to contact them.
Sources:
https://mailchimp.com/email-marketing/
https://www.sendinblue.com/blog/email-marketing-strategies/
https://www.campaignmonitor.com/resources/guides/email-marketing-strategy/
Email marketing strategy
Have you ever heard the saying from Meredith Hill, "When you speak to everyone, you speak to no one"? What Hill is getting at here is that if you're watering down your message to apply to your entire audience, you're leaving opportunity on the table — opportunity for creating high-value, specific, relevant content that speaks directly to the recipient.
26 Examples of Brilliant Email Marketing Campaigns [Template]
On any given day, most of our email inboxes are flooded with a barrage of automated email newsletters that do little else besides giving us another task to do on our commutes to work — namely, marking them all as unread without reading or unsubscribing altogether.
It may not seem like a good idea to add to all the noise. However, according to Constant Contact, the average ROI for email marketing is $42 for every 800 spent. Needless to say, email is an important component of a marketing strategy, and its success relies largely on how well you craft your email campaigns.
What Is an Email Marketing Campaign?
An email marketing campaign is a series of emails a business uses to communicate with current and potential customers. This planned content is distributed via email with the goal of accomplishing a specific goal for the organization such as nurturing leads or encouraging engagement.
Through email, you're able to stay top-of-mind by providing communication to their personal inbox, and you can do it at scale with marketing automation software. It's important that an email campaign's recipients have opted in to receive this content and that each piece offers something valuable.
Traffic generation – Email can be an effective promotion channel for the high-value content you create on your website.
Awareness – Not everyone who opts into your email list is ready for a purchasing decision. You can use email marketing to stay top of mind while providing the educational content that is most relevant to them.
Lead nurturing – As you stay top of mind, you may also consider ways to identify the leads you have with the highest purchase intent and provide conversion-focused content that "nurtures" them toward a sale (or at least toward becoming sales-ready).
Revenue generation – You can create email marketing campaigns for your existing customers to promote upsell and cross-sell opportunities. You can also create campaigns to capture a sales conversion from leads who are close to a purchasing decision. (One example might be creating "abandon cart" campaigns for recovering lost sales conversions.)
Best Email Marketing Strategies
Use the Right List Building Strategies
The success of your email marketing campaigns depends on the quality of your email list. To build such a list, you must use list-building strategies designed to attract your target audience. For example, a case study promoted on LinkedIn may help a B2B brand build a list of engaged subscribers but flop when used by a B2C brand.
Practice Good Email List Hygiene
Keep Your List Warm
Focus on One Objective
Design each campaign and email to focus on one objective. Trying to kill two (or more) birds with one stone doesn't work with email marketing. It only confuses your audience and reduces your conversion rates.
Define and Track the Right KPIs
How to Write Email Marketing Copy That Drives Results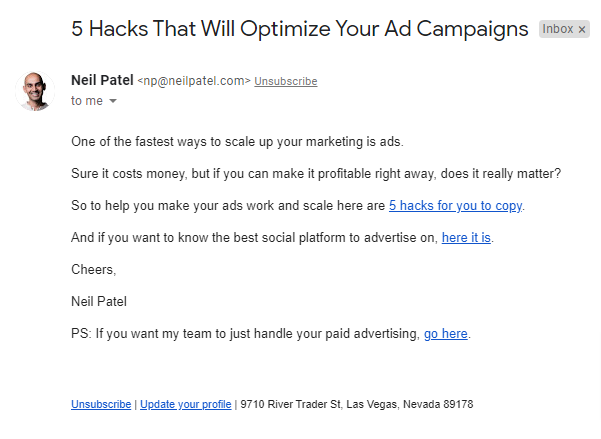 Know Your Audience
Craft a Hard-to-Ignore Subject Line
Get the Preview Text Right
Email preview text appears immediately below or beside the subject line. Limited to a maximum of 140 characters (email client dependent), it acts as an elevator pitch to convince people to open your email. An optimized preview text is an extension of your subject line and reinforces your value proposition.
Make It Easy to Read
Leverage Storytelling
Use Psychology to Your Advantage
Use the word "YOU"
"Everybody in the world divides his mail into two piles which I call the A-Pile and the B-Pile.

The A-Pile contains letters that are, (or appear to be), personal.

The B-Pile contains everything else: Bills, catalogs, brochures, printed announcements, envelopes that obviously contain a sales message, and so on.

Now listen up: The most important thing you can ever do when creating a direct mail promotion is to make sure your letter gets in the A-Pile!"
Sources:
https://blog.hubspot.com/marketing/email-marketing-examples-list
https://neilpatel.com/blog/beginners-guide-email-marketing/
https://www.omnikick.com/email-marketing-strategies/